Yesterday was our last night in Monaco. As pretty as it was, we were really racking up quite a tab. Definitely time for us to go - especially since I kept walking by that Gucci store and the fantastic 1300 euro bag I covet so much.
We started the day completely hung over, as the last blog detailed. Then we checked out luggage and soaked up the sun by the lagoon pool at the hotel. This pool is apparently very primo as it costs 80 euros a day to get in if you are not staying at the hotel (since the hotel is only $400 a night, perhaps just buying a room makes more sense?) So we chilled by the pool, I did couple laps (read: 1 lap) and we ordered overly expensive fruit salads and water for breakfast.
After sunning ourselves by the pool, as per any quality Monaco vacationer, we took a taxi to the Grimaldi Palace and took a tour of all of their fanciness and history. After we shopped for souveniers for our favorite people back home and then took a long stroll along the harbour back to the casino square.
A prerequesite of any visit to the Monaco casino square is a drink at the Cafe des Paris. I had a "Monte Carlo Summer" which is strawberry puree and champagne. Jamie had yet another glass of white wine - her new favorite. We enjoyed watching the fancy cars and the sunset and then took a long stroll back to our hotel.


Before leaving we had to have our third order of their magnificent tomato & mozzarella di bufala salad and yet another bottle of their amazing 2001 Mersault. 150 euros, but when in Monaco, you must do what people in Monaco do!
Then we caught a quick taxi to the Monaco train station to catch out train. Yet again, the trains were scary. Firstly we realized that I can't read a European train ticket to save my life.. I thought our train left at 9:43 but it was actually scheduled for 9:22. Fortunately we were there early and this is an Italian train so it didn't arrive until 9:45 anyway.
Another fear for us was that our tickets were screwed up as our marked cabin was labeled "2nd class" instead of "sleeper" on the composition des trens. This freaked us out. Jamie wanted another bottle of Mersault she was so worried! But when we got on the train it was all perfect. We had our own train car room - three beds for two girls - one bed for our luggage. Worked out perfectly!
At the first stop in Italy we were hanging out the window like any girl in a 1940s movie might do when we met a nice cart purveyor wandring the Ventimiglia station. We screamed "Buona Notte" and "Ciao" - practicing our Italian - and he fancied us so offered us some wine. Well, of course, we agreed! He insisted we bought 4 bottles of white for 12 euros! Wow! What a price difference compared to Monaco!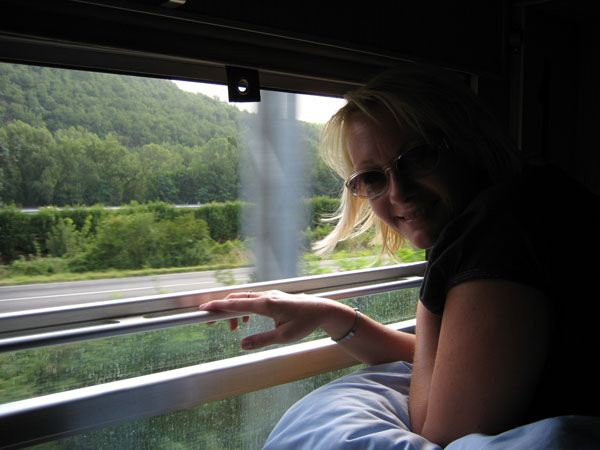 So on our first minutes in Italy everything was already going perfectly. We had our own train car, four bottles of Italian wine and beds to sleep in!
The next day we wokeup to the last hour of our train ride, rolling through Chianti country and into Roma. Now we're arrived, spent two hours walking through the Foro Romano and by the Colesseo before checking into our hotel and taking a shower. Then the most amazing (only because it was the first!) Italian meal we've had yet - with Ray - who flew in from New York just this morning. Bruschette, Caprese, Pizza and Pasta - along with 1 e mezzo litres of vino bianco! So wonderful that it inspired us to buy more wine for our hotel room! (We are staying at the Exedra Boscolo at Piazza della Republicca. If you are a movie fan you will recognize this as the hotel that Julia Roberts stayed at in Ocean's Twelve.) Now.. as I type.. Jamie and Ray have passed out from the Roman fun. Slackers!

Next? More drinking and a stroll over to Campo dei Fiori to meet up with any Italian friends who can make it out. As always, my Italian friends are very Italian and hard to plan with - but we'll certainly see them eventually. And between now and then, there's so much else to see and do in Rome, we're entertained!