The past two days have been completely wine induced. Since arriving in Beaune on Friday afternoon at 4pm we have tasted over 30 different wines from the Burgundy region. Mainly this consists of Pinot Noirs and Chardonnays. Of course being from California we don't care much for Chardonnay but we have learned to discern the different colors, smells and tastes well enough.

Our first stop was at Vin Sensation in Beaune, just down the road from our hotel, Hotel le Cep. Here we learned about the different classifications of Burgundy wines and tasted 12 different wines: 6 white and 6 red.

After we went to dinner at Le Gourmandin where we had the best gourgeres and dessert imaginable, along with some very peculiar French vegetables. (My mother would be so proud!) Then we rode the carousel and rocked out to some local French pop-rock band in the city's center square. Fortunately we fled just before the show ended as to avoid the odd French admirers we'd attracted while giggling aboard the plastic horses.
Today we went for a lunch tasting at Olivier Laflaive which is in Puligny-Montrachet. We had 14 of their wines along with more wonderful gourgeres and a ridiculously amazing plate of cheese (including the orgasm-inducing Epoisses). This took us over four hours but was much fun. I also taught Jamie her first full French sentence, which she practiced on the wine-stewards at Olivier Laflaive: "Je voudrais boire plus du vin, sil vous plait… maintenant!"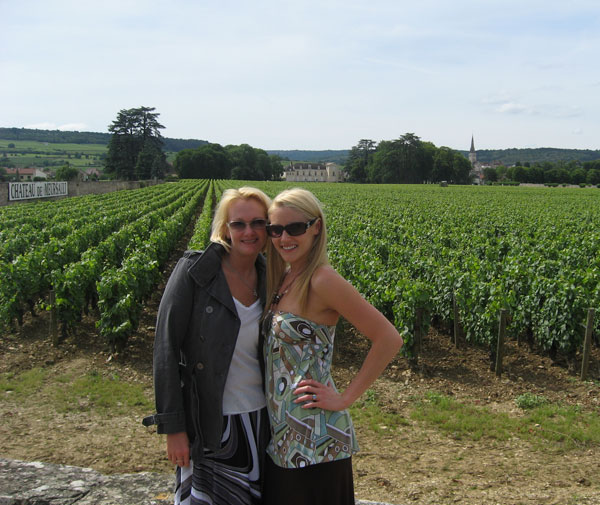 Our driver, Pierre, who has been our exclusive chauffeur since arriving in Dijon yesterday, drove us back and let us take pictures in front of the Chauteau Mersault. Not only is that chateau beautiful, it is also the home of my favorite white wine from this region.

Lastly we took a Safari Tour of the Cote des Nuits region. We stopped at a tasting cellar where we saw how they store their wine in very old oak barrels (so as to avoid the oak flavor that California wines cultivate so much) and how they stack them. It has made me rethink my own wine collection! After we drove through Nuits Saint Georges and over to Cambertin, the home of Napolean's favorite wine. We stopped off in front of Romanee Conti, where they turn 4 acres of vines into 1,000 bottles of $5,000-$10,000 per bottle wine. Now that's impressive! (More reasonable but yet also impressive was seeing the La Tache grapes. A bottle of La Tache ages 12 years before being released and then is priced at $1,000 a bottle. I think maybe we can do that… someday!)


So that's it for our tour of Beaune and our Burgundy wine education experience. Tomorrow we take an early train to Monaco via Lyon and Nice. We look forward to 3 days of relaxing by the pool, gambling, massages and more wonderful food!